It was an honour to be asked by the Chartered Society of Physiotherapy to write this obituary for the exceptional Mary Bromiley MBE, published in Frontline magazine February 2020. Mary was the visionary who laid the foundations of the veterinary physiotherapy profession. Although a fearsome lioness, she was gracious in offering guidance and sharing wisdom, for which I personally will be forever grateful.
Mary Bromiley MBE FCSP
Published in Frontline magazine February 2020, reproduced here with the permission of the Chartered Society of Physiotherapy.
Mary Bromiley's appearance at the Sydney 2000 Olympic Games triggered a surge of excitement in the horse hospital, followed by a mass exodus as everyone beelined to the New Zealand three day event stables hoping to catch a glimpse of the renowned equine physiotherapist. It was as though the Rolling Stones had arrived; such was the buzz around Mary who had a kind of rockstar status of her own. I deliberately waited a couple of days to allow the hysteria to settle, but before I could arrange an introduction to the revered grandmother and queen of my profession, there was a tap on the shoulder, and I was summonsed to meet her. It felt like being at school and going to the headmaster's office, but Mary immediately put me at ease with her warm smile, relaxed demeanour and ready wit. Beyond Sydney we developed a lasting friendship and Mary, who was older and infinitely wiser, became a trusted mentor. I regarded her like a cool aunty – the slightly nonconformist one for whom no topic is off limits.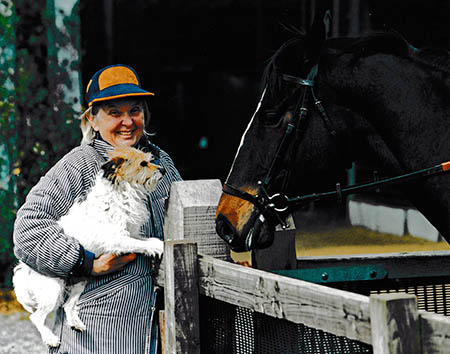 As the most prominent pioneer of veterinary physiotherapy, Mary was among the founding members of ACPAT, and was the first chairperson. Around the same time, with the help of her two daughters, she established a world-first specialist rehabilitation facility for horses, Downs House, in 1984. Her results helped win over the trust and respect of the veterinary profession. Mary also became an accomplished author of several books and contributed to numerous veterinary and equestrian publications. She lectured internationally, set up an equine sports massage diploma course, and delivered practical sessions at the Royal Veterinary College on the MSc veterinary physiotherapy programme.
Always a stickler for anatomical detail and in-depth knowledge of the patient's discipline, Mary developed a reputation for no nonsense. She was a formidable force in her relentless pursuit of high standards and was unapologetically straight-talking with those who fell short. If she thought what you were saying was even slightly ridiculous, you knew it before you could finish your sentence. She would give you that look, or there would be an uncomfortable pause over the phone. It was no wonder that in some circles she was affectionately known as scary Mary, but this contributed to her tremendous success as a teacher and was part of her colourful character and widespread appeal. Emphatically spoken, some of her best advice to veterinary physiotherapists was (1) to do the job and not look like you're standing there patting a horse; (2) to be honest and not afraid to say when you have been wrong; and (3) to converse with the owner, trainer and stable staff in their language.
Perhaps Mary's greatest professional achievements were in horse racing where her work did the talking. In a tough, male-dominated industry, Mary earned the admiration of those at the very top. Sir Michael Stoute, ten-times champion trainer of British Flat racing, said 'Mary was a fascinating lady with a prodigious knowledge of her subject. If you were interested, she was the most brilliant teacher'. Martin Pipe CBE, fifteen-times champion trainer of National Hunt racing whom Mary helped with over 4OOO winners, described her in the Racing Post as 'the best equine physio in the world'. He went on to say 'Mary could just look at a horse and tell us what was wrong. She could see things nobody else could see'.
Her incredible powers of observation and affinity with horses were quickly apparent. She possessed an innate horsemanship and was unflappable around high-spirited horses, not giving them the slightest sniff of adrenaline. Money was never her motivation; it was always a love of the job and genuine compassion for injured animals. She found no greater satisfaction than in rehabilitating a cast-aside animal to good health. A grassroots kind of person, she would have baulked at being called a celebrity in equestrian sport, but that's what she was. Always humble, she specialised in self-deprecating humour, telling Horse and Hound that she was shocked to receive an MBE and considered sending it back the following year when Tony Blair's hairdresser got one. Inside the cover of her third edition of Equine Injury, Therapy and Rehabilitation which she kindly sent me, she scribbled 'Another 200 pages of garbage!!'.
Mary was exceptionally kind and generous. She gave me advice when I asked for it, and even when I didn't, but always when I needed it. It encompassed everything from complex cases, to tricky trainers, awkward vets, and navigating the pitfalls of business. My favourite chats however were the personal ones when she would share stories from her life and point me in the right direction in mine – regarding family, people, travel, education, marriage, divorce, survival and self-belief. We didn't always agree but when I look back, I realise that Mary, ever the wise owl, was pretty much always right. I feel so privileged to have known her and called her my friend. I speak for ACPAT when I say she will always be fondly remembered, and her legacy will live on.
Mary passed away on 7 September 2019, aged 88. She is survived by sons Nick and Sam, daughters Pelly and Rabbit, and grandchildren Tom, Katie, Mat and Morgan.
Kate Hesse
On Track Physiotherapy Ltd
Newmarket