Veterinary physiotherapy service for racehorses ONLY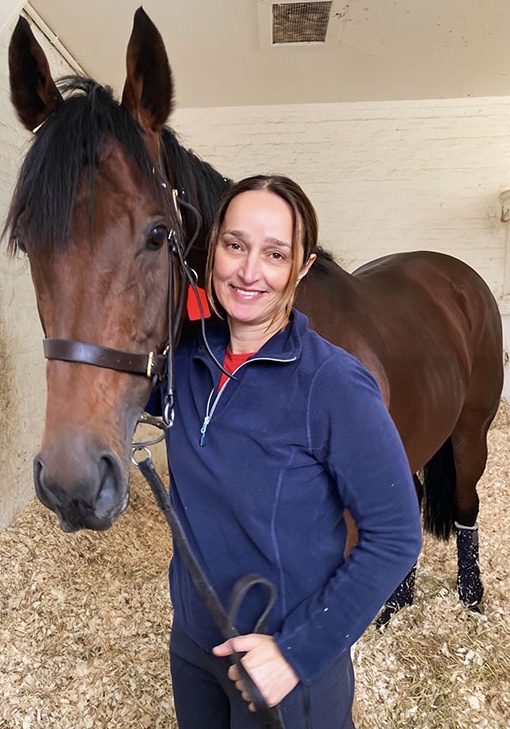 Kate Hesse with Mishriff
On Track Physiotherapy Ltd is based at the historic headquarters of horse racing,
Newmarket England
, providing physiotherapy services to Thoroughbred racehorses in training. It is run by 
chartered physiotherapist
Kate Hesse
BPhysio MSc MCSP ACPAT(A)
who has been treating horses since 1997.
Australian born, Kate Hesse graduated from La Trobe University (Melbourne) in 1995 with a four-year Bachelor of Physiotherapy (BPhysio). Her early training in equine physiotherapy was predominantly with the Academy of Equine Sport Therapy in Germany. Moving to the UK in 2002, Kate qualified as a Category 'A' Member of ACPAT, the Association of Chartered Physiotherapists in Animal Therapy. In 2009 she attained a distinction in the Master of Science (MSc) degree in Veterinary Physiotherapy from the Royal Veterinary College, University of London.

Also working in association with Rossdale and Partners Veterinary Surgeons, Kate treats horses at a number of racing yards and studs in the Newmarket area. As an expert in the field, for a decade Kate provided clinical education for the Royal Veterinary College and thereafter the University of Liverpool on their MSc in Veterinary Physiotherapy programmes. She continues to present at professional conferences in the UK and abroad.
Occasionally Katharine (Kate) Stephens BSc (Hons) MSc MCSP ACPAT(A) provides cover for Kate through Complete Performance Physiotherapy.
CAREER HIGHLIGHTS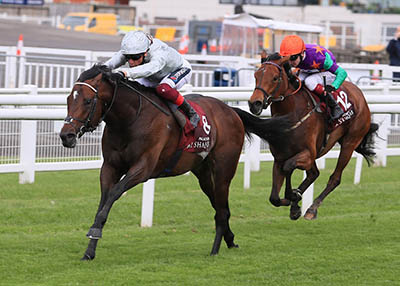 Palace Pier winning the Lockinge in 2021
with Lady Bowthorpe a gallant second.
Courtesy of Pat Healy
Some noteworthy Group One winning champions with whom Kate Hesse has worked include:
Another major highlight in Kate's career was her appointment as the official physiotherapist for Veterinary Services at the Sydney 2000 Olympic Games.
Further information on Kate Hesse
N.B. UNFORTUNATELY WE ARE UNABLE TO TAKE ON ANY WORK EXPERIENCE STUDENTS
---
For information on qualifying as a veterinary physiotherapist in the UK, please visit Careers and Development at ACPAT.