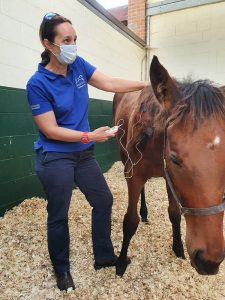 Kate treating a foal, July 2020
Kate's lifelong involvement with horses is largely thanks to her late grandparents who lived on a farm. As a child her equestrian education was completely informal, often tearing around 'the bush' bareback on naughty ponies with no brakes!
At age 18, with an offer from Murdoch University Veterinary School in one hand and La Trobe University Physiotherapy School in the other, Kate took a gamble and chose to pursue physiotherapy with a view to one day practising on horses.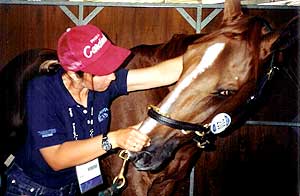 Kate treating Baloubet du Rouet
at the Sydney 2000 Olympic Games,
3 x World Cup Champion show jumper.
Courtesy of Robin Bell
During her university years she did a stint as a 'jillaroo', mustering cattle on horseback in the outback region of the Kimberley on a million-acre station. Regardless of formal riding lessons since, Kate still insists her most valuable horsemanship skills were gleaned from the stockmen of Meda (cattle) Station. Media & Published Material
Nowadays Kate happily splits her time between her racehorse physiotherapy practice, Physioteq at the University of Cambridge Sports Centre, and her role as an officer in the Army Reserve.