Diagnosing and dealing with back pain and dysfunction in the racehorse
Kate has an editorial "Back On Track" (full article – courtesy of Thoroughbred Owner & Breeder incorporating Pacemaker) published in Europe's leading horseracing and bloodstock magazine, Thoroughbred Owner & Breeder December 2016 – Issue 148 – page 113.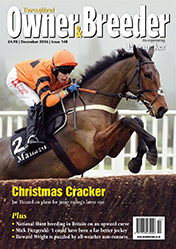 Back On Track
While back pain is a common complaint in thoroughbred racehorses in training, it remains largely misunderstood by people outside the veterinary profession. As such it has been a soft target for many a charlatan and indeed a whole backyard industry has evolved around the supposed 'putting back in' of backs that are 'out of place'. A good starting point to begin to understand this misleading notion of 'out', is to take a look at the basic anatomy.
Read more ➤